We're looking forward to something very special this month. Right after Thanksgiving (if you're American) and just before the Xmas season hits us hard…. is AWS re:Invent - the flagship conference for AWS users of all stripes! If you're building your cloud in AWS, then this is THE event for education, best practices, the latest AWS news, and some serious networking with the other 50K expected attendees!
As a cloud-native organization ourselves, AWS security is central to what we do at Uptycs and we can't wait to connect with this amazing community in person!
First off, Let's Review the Basics...
This is the 10th year of re:Invent! The very first re:Invent conference was held in 2016 for only 6K attendees. This was long before many of us in the security space truly understood how much it would come to dominate and influence security programs for orgs large and small.
Over the past decade it's ballooned to an expected 50K attendees, 2,000 sessions and over 300 sponsoring vendors (ahem!). Here's what you need to know:
AWS re:Invent Location, Dates & Details
Dates: Monday, November 28 – Friday, December 2, 2022
Location: Las Vegas, USA
Price: $1,799 per conference pass
A show this size requires a whole re:Invent campus, spanning the length of the Vegas strip! Sessions, keynotes, and other activities will mainly be sprinkled between the Cesars, Mandalay Bay, MGM Grand and The Venetian.
AWS will have special campus shuttles between the hotels AND they've promised to provide plenty of "ambassadors" and directions to help you get around the Strip. Don't forget to take advantage of the AWS room block discounts at all participating hotels when you register!
As has become standard with shows of this size, there will also be a re:Invent app (date TBD) for scheduling and navigating the event. Hopefully we see that link drop soon!
Why Attend re:Invent: Keynote & Leadership Sessions
It's true that re:Invent is not primarily a security focused event, but it's undeniable that the topic of security at every stage of development is increasingly at the forefront of every org's discussions around the cloud.
Seriously…we've lost count of how many times "Shift Left" appears in session lists at cloud-focused events.. At Uptycs, we've even moved beyond shift left and into "Shift Up" territory.
Of the more than 2,000 sessions, stuffed into 50 content tracks, here are a few we recommend you add to your agenda. Sessions are still being added so we'll be updating this list - stay tuned!
AWS CIRT Toolkit for Automating Incident Response Preparedness
When: Tuesday, November 29, 3:30 PM - 4:30 PM
When it comes to life in the cloud, there's nothing more important than security. At AWS, the Customer Incident Response Team (CIRT) creates tools to support customers during active security events and to help them anticipate and respond to events using simulations. In this builders' session, CIRT members demonstrate best practices for using these tools to enable service logs with Assisted Log Enabler for AWS, run a security event simulation using AWS CloudSaga, and analyze logs to respond to a security event with Amazon Athena. You must bring your laptop to participate
AWS Identity & Access Management (IAM) Policy Evaluation in Action
When: Monday, November 28, 10:00 AM - 12:00 PM
In this workshop, dive deep into the logic of AWS Identity and Access Management (IAM) policy evaluation. Gain experience with hands-on labs that walk through IAM use cases and learn how different policies interact with each other. Using identity- and resource-based policies within single- and cross-account scenarios, learn about the evaluation logic that you can apply in your own environment. You must bring your laptop to participate
Kubernetes Threat Detection & Incident Response Automation
When: Wednesday, November 30, 11:30 AM - 12:30 PM
One of our favorite subjects at the moment! In this hands-on builders' session, learn how to use Amazon GuardDuty and Amazon Detective to effectively analyze Kubernetes audit logs from Amazon EKS and alert on suspicious events or malicious access such as an increase in "403 Forbidden" or "401 Unauthorized" logs.
Competing for Cloud Security Talent - Win Without the Fight (Sponsored by Uptycs)
When: Tuesday, November 29, 4:45 PM - 5:00 PM
Ok ok, shameless pitch we know. But we're super excited to have our own Director of Cloud Security (and former AWS employee), Andre Rall discussing how you can distance yourself from the cloud security talent competition. Learn how companies can focus on their core business by surfacing actionable vulnerabilities in their AWS environment, even without a team of expert security engineers. Also, consider why former threat actors have become cloud security experts.
Enterprise Service Networking With HashiCorp & AWS (Sponsored by HashiCorp)
When: Tuesday, November 29, 12:30 PM - 1:30 PM
Businesses often have important applications running across different runtimes: Amazon ECS, Amazon EKS, AWS Fargate, AWS Lambda, and on-premises virtual machines, to name a few. Frequently, development teams need to securely connect their services running in these different environments. HashiCorp Consul, a cloud service networking product, is a popular choice for this scenario. In this session, learn how Comcast bridged the gap between services running on multiple AWS data centers across AWS Regions and runtimes as well as in on-premises environments. Further, find out how Consul helped manage this complexity with increased security. This presentation is brought to you by HashiCorp, an AWS Partner.
Come Hang Out With Uptycs
If you're planning on attending re:Invent (or if we've convinced you) we'll be at booth #3352 giving demos of our whole CNAPP suite of solutions including: CWPP, CSPM, KSPM, CIEM and CDR. Whew, that's a lot of acronyms. But it just goes to show how challenging it is for security solutions to keep up with the growing complexity of cloud computing.
We'll also be raffling off a gigantic LEGO AT-AT at the booth! To enter to win just drop by the booth #3352 to say hi and sign up for an post-conference demo. We're not overselling it - this set is over 6,000 pieces and has been described by Gizmodo as "the size of a small dog."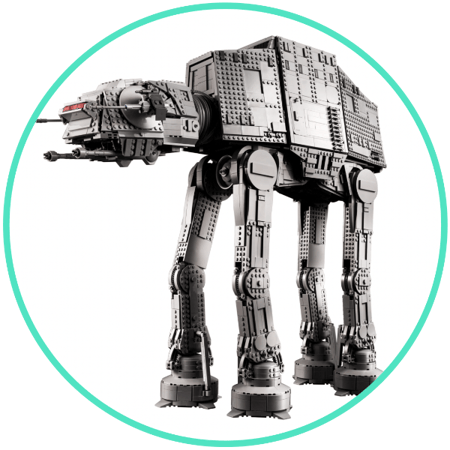 If you'd like to have a more in-depth conversation with one of our solutions experts, you can also book a meeting slot in our luxury suite at the Wynn hotel. You can relax, grab a drink and learn how Uptycs can reduce risk in your entire modern attack surface, from bare metal to the cloud!
P.S. We'll be ending the first day of re:Invent with an intimate whiskey tasting event, offering a sample of some of the finest whiskies (and bourbons and scotches) that Las Vegas has to offer. Space is limited, but invitations can still be requested. Or, if you're feeling lucky, swing by Uptycs booth #3352 on Monday. We may be able to free up a spot for a new friend. ;)