We're gearing up for one of the most important conferences on our calendar this year: KubeCon 2022. If your organization is growing based on cloud-native architecture, this is a show that needs to be on your radar.
Kubernetes has become such a critical platform for cloud-based application development, it's easy to forget it's only been around for a handful of years. Since being open-sourced by Google in 2015, Kubernetes (AKA K8s) has become the leading powerhouse of container orchestration. Of course, it deserves its own conference!
KubeCon, created and managed by the Cloud Native Computing Foundation, will be hybrid with both live and virtual attendance options. Tickets for in-person currently start at $700 for individual attendees and $70 for virtual. We can help you with a free virtual ticket if you're interested! Just register with the code "KCNA22UPTUA@VIRTUAL".
Don't Skip These Sessions
Building a security strategy for containerized environments feels a lot like entering the wild west. This year there are over 20 sessions addressing security, including a co-located event, CloudNative Security Con, devoted specifically to these challenges.
Here are a few we're particularly looking forward to:


1. Why Machines Deserve Rights: Rethinking Infrastructure Access with OSS Teleport Machine ID
-

Kenneth DuMez, Teleport
Permissioning machine identities is a topic we've been discussing a great deal internally so we're definitely looking forward to this session.
2. Securing Access To Kubernetes Infrastructure with Kubernetes Zero Trust Principles

- Mohan Atreya, Rafay Systems
You can't underestimate the challenge of access security for K8s! The session looks like a nice overview of the issues for anyone building for scale.
3. Using the EBPF Superpowers To Generate Kubernetes Security Policies

- Bernal & Alban Crequy, Microsoft
eBPF is an often underutilized code execution technology that we're a big fan of at Uptycs. This session explores some of the ways to use it for more effective security monitoring. We also have some thoughts on how to leverage eBPF for cloud security.
4. What Data Tells Us About Software Supply Chain Security & What To Do About It

- Josh Bressers, Anchore; Tracy Miranda, Chainguard; John Yeoh, Cloud Security Alliance; Andrew Aitken & Eric Tice, Wipro
Context is everything when it comes to advanced and effective security practices. This session explores how to incorporate real-world data sources into your security strategy.
5. Securing A Kubernetes Cluster From Top To Bottom

- Ryler Hockenbury, Mastercard
We're looking forward to this dive into how Mastercard secures their incredibly complex cloud-based & on-prem environment. It's the kind of enterprise attack surface our customers are managing every day.
6. Keynote: Why Developer Laptop Security is Key to Securing Your CI/CD Pipeline

- Jeremy Colvin, Technical PMM, Uptycs
Yeah we know, shameless plug. But this lightning keynote session will contain some usable insights on achieving security through a unified approach, encompassing the entire development journey, starting with the developers' laptops through deployment in the cloud.
Check out more of Jeremy's work and thoughts (he's got some good ones).
Come Hang Out With Uptycs
If you're planning on attending KubeCon (or if we've convinced you) we'll be at booth #G29 giving demos of our Kubernetes Security Posture Management (KSPM) capabilities. Yes, it's one more acronym to add to the growing list, but if Kubernetes-specific security isn't on your radar, it should be. Afterall, while K8s makes a dev's job a dream, the complexity and ephemeral nature of containers can make security a nightmare.
That's why we're excited to be showing off our real-time detection for containerized workloads, proactive scanning of container images in the CI/CD pipeline, continuous compliance monitoring, and K8s security policy audit and enforcement - in person!
We'll also be raffling off a gigantic LEGO AT-AT at the conference! To enter to win just drop by the booth #G29 and take our short online enterprise security survey. This set is over 6,000 pieces and has been described by Gizmodo as "the size of a small dog."
BONUS - when we publish the survey results at the end of the year, our survey takers will be the first to get the final report!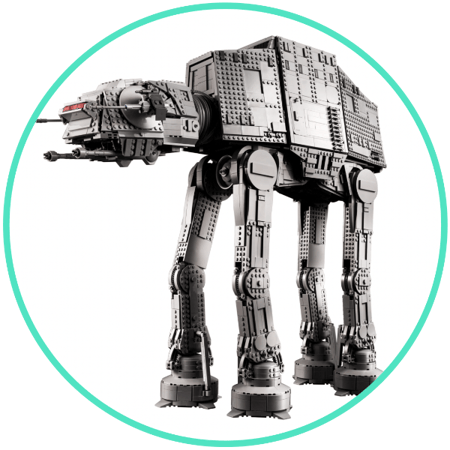 Want to get an in-depth look at how Uptycs can help you manage Kubernetes security? There's still time to book a personalized demo with us at the booth for you or anyone on your cloud and Kubernetes team. And if you can't wait - check out this interactive product tour 👇 to see for yourself.
Things To Do In Detroit
You'll be spending a whole week in one of the most eclectic, interesting, and highly underrated cities in America. How can you not explore just a little? Here are a few activities we'd highly recommend before you leave:
1. John K. King Used & Rare Books
Just a couple blocks from Huntington Place is a unique experience for any bibliophiles - a 4 story building selling some of the most obscure books both in and out of print. Exploring it requires a map, which you're handed upon entering.

Link: https://www.johnkingbooksdetroit.com/
2. The Guardian Building
Also just a few blocks away, this historic landmark is a beautiful example of the art deco architecture that Detroit became famous for in the 1920s. Entry is free and cameras are welcome.

Link: https://www.guardianbuilding.com/
3. The Henry Ford Museum
Of course, we have to mention one of the most famous attractions in the city - if you are a lover of automobiles, or just an Americana history buff, you could fill a whole weekend here.

Get tickets here
4. Scream at The Masonic Temple on Friday, October 28th!
It's the week before Halloween! So we have to recommend something spooky! A classic Detroit landmark and event venue, the Masonic Temple, is hosting Detroit's biggest Halloween party on Friday, October 28. Perfect timing for post-conference fun!

Get tickets here