Get psyched for Black Hat USA 2023!
We're excited to be heading to Las Vegas to meet fellow tech-heads, showcase the power of Uptycs, and share a few new surprises with guests like you.
We have an epic booth experience lined up. In fact, we're sure it'll make your tech-loving heart skip a beat and ignite your inner superhero.

Where: Mandalay Bay Convention Center, Las Vegas, NV
When: Saturday, August 5 through Thursday, August 10


First things first:
Attendance is limited, so register for Black Hat USA 2023 right now to reserve your spot.

Next, schedule a meeting with the Uptycs super tech squad at Booth #1060, which secures your personal consultation with one of our cyber-experts, and gets you a FREE Flash Pass which you can use to leap to the front of the line for all of our events.

Connect, inspect, and collect: Activities galore!
Join our educational sessions at Black Hat to learn how to think like an attacker, and how to identify and defend against cloud attacks. Network with fellow infosec leaders at our Sip n' Security event, and take home some cool collectibles from Uptycs Nerd Wall. Get an autograph and photo with "Superman" then say hello to Uptycs' very own superhero, The Unifier.
Uptycs Sip 'N Security at Black Hat with The Cyber Trailblazers
Treat yourself and join the Uptycs crew for a complimentary high-end whiskey tasting, chill to some live Jazz, while taking in the best views of the strip from the terrace. Believe us, if you're looking for good vibes and edgy cybersecurity discussion, this is where you'll want to be.

Use "Uptycs" as the promo code to request tickets to Sip 'N Security.
Enjoy a gourmet lunch while learning
Don't miss the presentation of How (and Why) to Think Like a Threat Actor in the Cloud with Andre Rall, Director of Cloud Security at Uptycs.

Join Andre as he explores the critical need to understand suspicious activity for bolstering cloud security. We'll delve into real-life cases of malicious activity detected and explain why cloud environments are especially vulnerable to threat actors, and how to protect your valuable data.

In this must-see session, attendees will get the unique chance to assume the role of a threat actor, promoting a deeper understanding of their motivations, tactics, and will have the opportunity to ask questions on attack mitigation and response strategies.
When: Wednesday, Aug. 9, 12:00 pm - 1:00 pm
Not your usual swag
If you're like us, you started out a bit nerdy and you maintain some inner-nerdiness to this day.

That's why you're going to love picking through our towering Uptycs Nerd Wall, stacked high with cool collectibles that would make any comic enthusiast swoon.

We know you already have plenty of pens, mugs, and fridge magnets. So drop by Booth #1060 and snag some super cool hero stuff, compliments of Uptycs and our pals at a local comic shop, Cosmic Comics.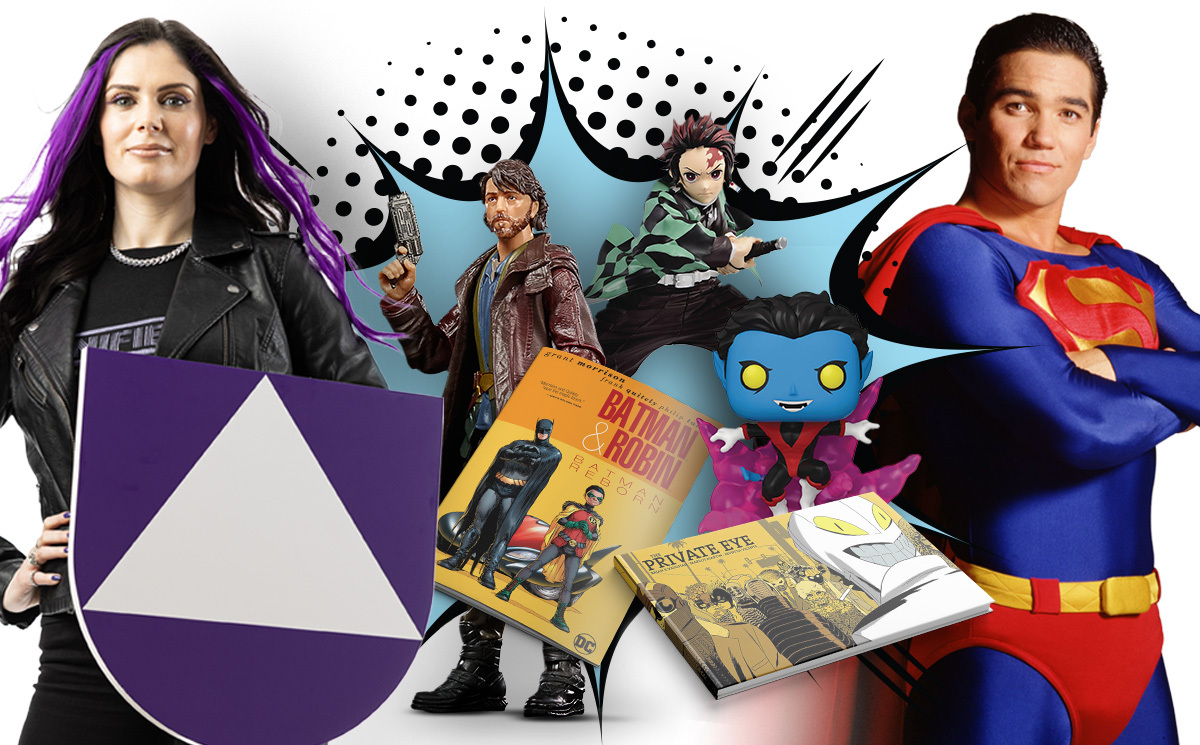 Visit our Nerd Wall at Booth #1060 and score some super swag!
Book a meeting with the Uptycs super tech squad to get a Flash Pass to skip the line for Superman autographs and selfies, Sip 'n Security, and our now famous Uptycs Nerd Wall.
Super Meet & Greet with Dean Cain
Uptycs loves making heroes of cybersecurity warriors. To celebrate this, we've invited TV's Superman, Dean Cain, from the hit series 'Lois & Clark'. Remember to use your Flash Pass to pop to the front of the line and meet Dean, get an autograph, or take a pic.
RSVP to meet Dean Cain at our Superman & Spirits event.
Meet 'The Unifier'
You'll also want to keep your eyes peeled for Uptycs' very own superhero, The Unifier. She's on a mission to unify your Dev, Sec, and Ops teams, empowering them to mitigate risk, secure company resources, and close security gaps.

Ask her for some tips on how Uptycs gives your team superpowers to defend your most valuable assets… from laptop to cloud.
Check out this short clip to learn more…
Be a podcast superstar
Ready for your moment in the spotlight? We'd like you to be a guest on our Cybersecurity Standup podcast! We'll be doing 'vox pop' style interviews on August 9th &10th, directly from the conference floor at BlackHat. If you're interested in being interviewed or just want to chime in, drop us a line and we'll make all the arrangements.

This is an ideal opportunity to promote, explain, or build your personal brand. Hey, it's a competitive market out there, so here's your chance to stand out.
You can take it with you
Don't forget, what happens in Vegas doesn't have to stay in Vegas. Take home your cool prizes from Uptycs Nerd Wall along with your new understanding of what Uptycs' unified CNAPP and XDR security solution can do for you.

If you haven't already, use the link below and act now to secure your spot for any (or all) of our events, grab a Flash Pass to bump you to the head of the line. Book a 1:1 meeting with a member of the Uptycs' super tech squad, and get ready to have your best questions answered.

See you at Booth #1060.