Press Release | September 7, 2023
Uptycs' Unified CNAPP and XDR Platform Earns Analyst Accolades as a Driving Force for Security Operations Excellence
Recognized by Esteemed Analyst Firms for Innovation in Cloud and Endpoint Security and Compliance
WALTHAM, MASS. — Sept. 7, 2023 — Uptycs, provider of the first unified CNAPP and XDR platform, today announced that the company has been recognized by leading analyst firms including Gartner®, 451 Research's S&P Global Market Intelligence, Enterprise Strategy Group (ESG), and KuppingerCole, further validating Uptycs' innovation and leadership in cloud and endpoint security and compliance.

As security budgets and resources tighten, organizations are faced with the challenge of safeguarding a variety of digital assets spread across an expanding attack surface, and doing so with less resources compared to previous years. As a result, security teams are looking to optimize their security operations with more centralized control over their security data, so they can instantly access the correlated insights they care about most, and take decisive action. Thus, the market for unified cloud-native application protection platform (CNAPP) and extended detection and response (XDR) continues to see record growth and analyst accolades.

"Organizations are continuing to look closely at spending and cybersecurity is not immune from that scrutiny. With most organizations using disconnected solutions, there's a desire to do more with less, including making it easier to track threat activity across workspace, hybrid, and multi-cloud environments from a unified platform," said Ganesh Pai, co-founder and CEO at Uptycs. "Uptycs' unified CNAPP and XDR brings teams together to reduce the amount of time it takes to fix a vulnerability or remove a threat. We're grateful for the recognition and will continue to innovate to help our customers achieve security operations excellence."
Uptycs named a Representative Vendor in the 2023 Gartner® Market Guide for Cloud-Native Application Protection Platforms1
This is the first Gartner Market Guide to focus on Cloud-Native Application Protection Platforms (CNAPP), highlighting the need for solutions that "bring together multiple disparate security and protection capabilities into a single platform focused on identifying and prioritizing excessive risk of the entire cloud-native application and its associated infrastructure." Uptycs was also listed as a representative vendor in three Gartner® Hype Cycles; for Workload and Network Security; Container Technology; and Zero Trust Networking.
Uptycs Recognized as a CSPM Technology Leader by KuppingerCole, Rising above Palo Alto Networks, Orca Security, Lacework, Sysdig, Cisco, Check Point, Crowdstrike, and others
The report dives into the importance of Cloud Security Posture Management (CSPM) as a vital aspect of safeguarding cloud environments, aiding organizations in identifying and rectifying misconfigurations and security vulnerabilities. Uptycs stands out in the field, recognized as a Leader in both Product Leadership and Innovation Leadership, and a Market Disruptor with strong potential to change the cloud security posture management market landscape.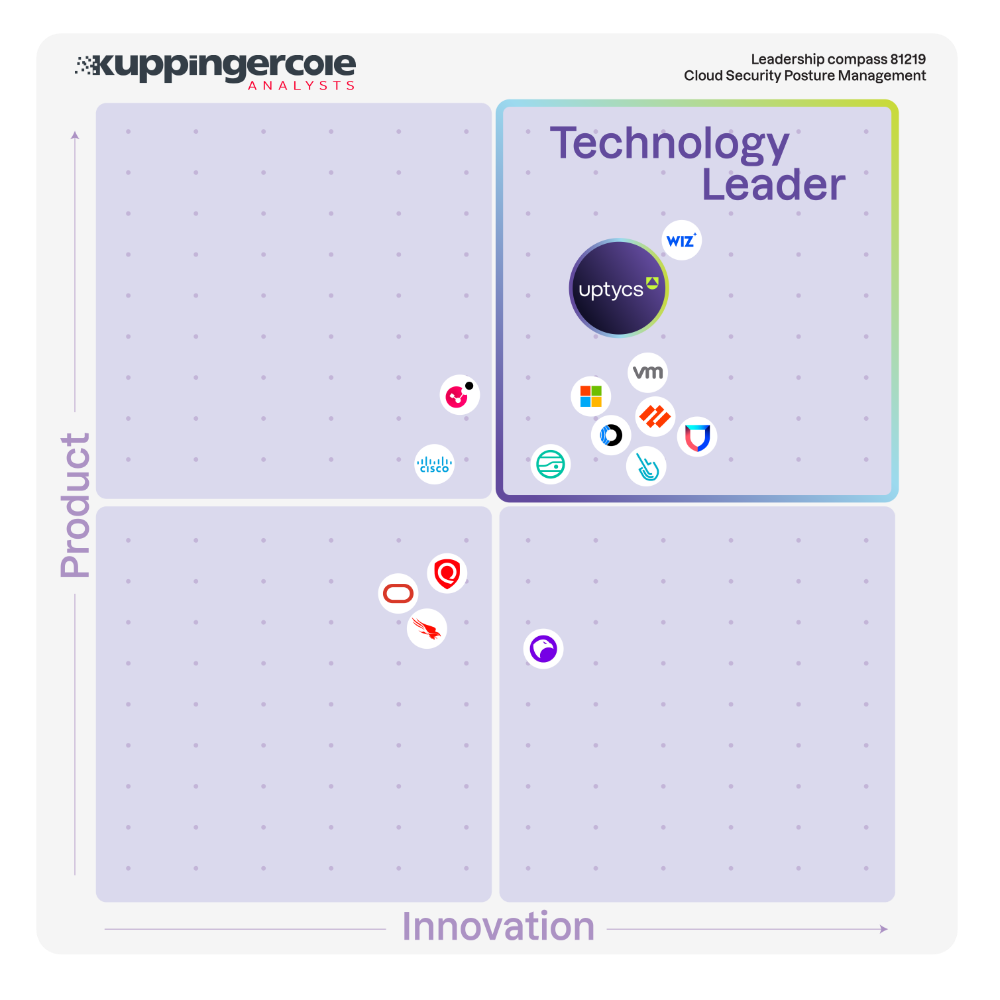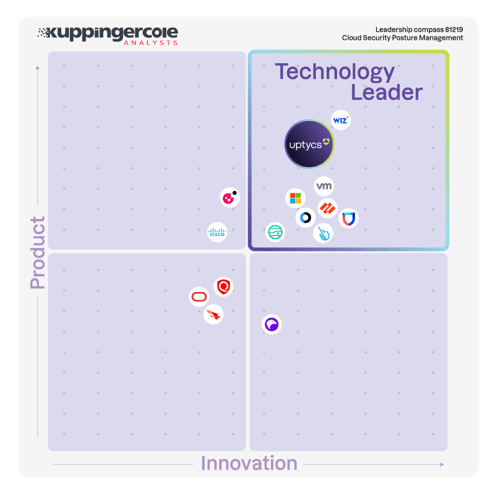 451 Research Market Impact Report on Uptycs highlights importance of extending cloud security to developer endpoints
This report takes a deep dive into the cloud security market and the Uptycs solution. In the report, Research Analyst, John McNeice, notes that 44.1% of enterprises have adopted a CNAPP solution and 28.3% plan to do so within a year. Uptycs differentiates itself from competitors by addressing a crucial yet often overlooked vulnerability in cloud security—the susceptibility of developer endpoints. These access points are frequently targeted by hackers, but their significance can be underestimated. According to McNeice, "The Uptycs platform's ability to extend security to developer endpoints is its primary differentiator versus its CNAPP competitors."
Enterprise Strategy Group white paper focuses on how too many security tools are hindering digital transformation efforts
In a white paper entitled, "Securing the Cloud-native Attack Surface with Unified XDR and CNAPP," ESG's Dave Gruber, Principal Analyst and Melinda Marks, Senior Analyst, feature survey data and commentary about the need for a unified approach to help organizations manage risks and respond to threats quickly. In a survey question about the challenges of multiple security tools from multiple vendors, 36% cited "it is difficult to get a complete picture of our security status using many disparate security technologies" and 46% of respondents cited the "strain on their organization's resources."

Uptycs offers a unified CNAPP and XDR platform for enhanced insights and operational efficiency, addressing software supply chain management, and detection speed. According to the paper, "Uptycs helps organizations secure the modern attack surface utilizing a single data model. By streaming normalized data up into a data lake, Uptycs takes a 'shift up' approach that delivers connected insights, control, and operational efficiency for security teams to effectively manage risk."
Attend the Enterprise Strategy Group webinar: "Less Drama, Better Security Data: Unifying Your Cloud and EDR Solutions"
Join ESG's leading endpoint and cloud security analysts, Melinda Marks and Dave Gruber, along with Kevin Paige, Uptycs' CISO and 3X customer, as we dive into market dynamics, challenges, and solutions for securing your modern attack surface.

Key takeaways and topics include how to:
Leverage ESG survey data to benchmark against your peers (spoiler alert: you're not alone!)
Securely support digital transformation with cloud adoption
Stop attack progression before critical resources are impacted
Secure endpoints where code is developed, all the way to the cloud where applications are deployed
Webinar Registration: Less Drama, Better Security Data: Unifying Your Cloud and EDR Solutions


Quick Links
Gartner® Market Guide for Cloud-Native Application Protection Platforms
The KuppingerCole Leadership Compass - Cloud Security Posture Management
451 Research, part of S&P Global Market Intelligence Market Impact Report on Uptycs
Enterprise Strategy Group (ESG) Securing the Cloud-native Attack Surface with Unified XDR and CNAPP

About Uptycs
Uptycs, the first unified CNAPP and XDR platform, reduces risk by prioritizing responses to threats, vulnerabilities, misconfigurations, sensitive data exposure, and compliance mandates across clouds, containers, servers, and endpoints—all from a single UI. This includes the ability to tie together threat activity as it traverses on-prem and cloud boundaries, thus delivering a more cohesive enterprise-wide security posture. Get started with agentless coverage, then add runtime protection, and advanced remediation and forensics.

Shift up your cybersecurity with Uptycs. Learn how at Uptycs.com.

Media Contact:
Stephanie Schlegel
Offleash for Uptycs
uptycs@offleashpr.com

___________________________
1 Source: Gartner, Market Guide for for Cloud-Native Application Protection Platforms, March 2023


See Uptycs in action
Start with our free, no-obligation 35-day trial. Get comfortable with Uptycs using synthetic data, then deploy to a live environment.